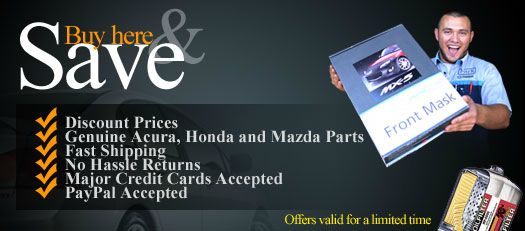 At ParkOEMParts.com we strive to satisfy our customers as we want your repeat business. In the time that we have been selling Genuine OEM Acura, Honda, Mazda and Subaru
parts online, we have developed a reputation for honesty, integrity and value for our customers.

We staff Acura, Honda, Mazda and Subaru parts counter personnel with a minimum of 5 years experience. If you dont want to look up your own Acura, Honda, Mazda and Subaru parts or accessories pick up the phone and call 1-800-686-3353, or use the contact us section of the site.

We stock every active Acura, Honda, Mazda and Subaru part released from the manufactuer. Remember we sell only Genuine Acura, Honda, Mazda and Subaru parts and accessories, at wholesale prices. No fakes, no games or inflated shipping, no imitation, no aftermarket or cheap copies only value for you our customer. We want you to come back and shop with us again. Please remember to bookmark this site on your web browser.
To place a parts or accessory order online, click on one of the catalog links above. Select to search our Mechanical, Collision or Accessory database. Drill down through the related categories until finding the items you are searching for. Add the item to your shopping cart and follow the registration process. During this process you will be asked to provide us your vehicles VIN (Vehicle Identification Number). This can be found on your door jam, registration, insurance card or drivers side top of dash. Taking this extra step gives us the ability to assure you are delivered the correct parts on the first attempt.

To place an accessory order. After clicking on the link above, simply select your model from the menu and search from the list of accessories. Giving us your VIN for accessories is just as important as when ordering OEM parts. If you are not comfortable placing your order online or cannot find the particular item you are searching for. Our inventory is not limited to the items listed in these catalogs. If it is not shown please feel free to contact us. One of our professional parts specialists will be happy to assist you.